Yealink UVC40-BYOD All-in-one USB Video Bar for Small Rooms
Yealink UVC40 is an all-in-one intelligent USB meeting device for small and huddle rooms. Featuring 20MP camera and 133 ° super-wide-angle lens, UVC40 delivers outstanding video quality. Together with the electric lens cap, its AI technologies including face detection, sound localization, and speaker tracking and so on allow users to experience a smarter and safer video conference. With 8 MEMS microphone arrays and high fidelity speaker, UVC40 brings excellent call quality even in full-duplex mode. Moreover, UVC40 supports remote management on Yealink Device Management Platform via its built-in Wi-Fi.
All-in-One, Plug-and-Play
The UVC40 features a high-quality AI-powered camera, microphone arrays and speaker, all of which are integrated into a single device to create an elegantly streamlined audio-video meeting endpoint, combining a highly compact design with rich camera performance. Thanks to USB plug-and-play capability, built-in Wi-Fi module and broad applicability with mainstream video conference platforms, this elegant device is easy to use and flexible enough for work, home or school.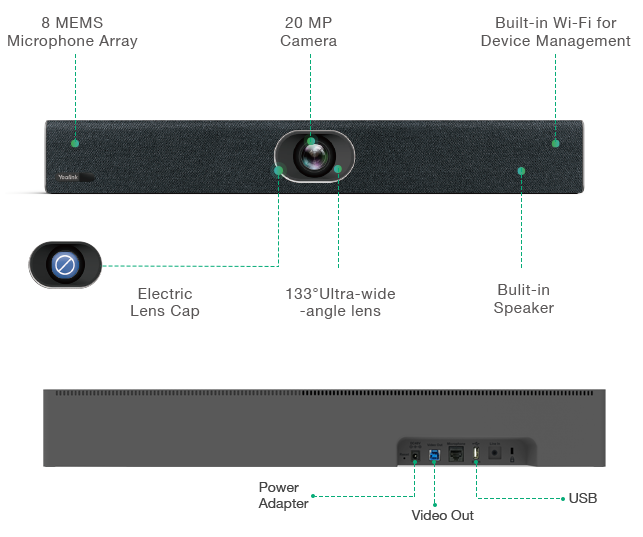 Get started with the UVC40 – BYOD
Simply mount the device underneath a TV monitor, on a wall or tabletop, and plug it into your PC and get ready for the meeting. The device can be remotely managed by Yealink Device Management Platform by switching on Wi-Fi.